Who We Are:
The Nature Conservancy's mission is to protect the lands and waters upon which all life depends. As a science-based organization, we create innovative, on-the-ground solutions to our world's toughest challenges so that we can create a world in which people and nature thrive. We're rooted in our Mission and guided by our Values, which include a Commitment to Diversity and Respect for People, Communities, and Cultures. Whether it's career development, flexible schedules, or a rewarding mission, there's lots of reasons to love life #insideTNC. Want a better insight to TNC? Check out our TNC Talent playlist on YouTube or on Glassdoor.
Our goal is to cultivate an inclusive work environment so that all our colleagues around the globe feel a sense of belonging, and that their unique contributions to our mission are valued. We know we'll only achieve our Mission by hiring and engaging a diverse workforce that reflects the communities in which we work. In addition to the requirements in our postings, we recognize that people come with talent and experiences outside of a job. Diversity of experience and skills combined with passion is a key to innovation and a culture of inclusion! Please apply – we'd love to hear from you. To quote myriad TNC staff members, "you'll join for our mission, and you'll stay for our people."
What We Can Achieve Together:
The Freshwater Science Associate supports engagement teams with critical science outputs for place-based watershed projects on behalf of the Nature for Water Facility ('N4W'). Housed within The Nature Conservancy's Resilient Watersheds Strategy, the Nature for Water Facility is a technical assistance outfit that provides hand-in-hand support to local champions seeking to develop watershed investment programs. N4W aims to support 40-60 place-based engagements globally over four years via a mixture of pro-bono and fee-for-service partnerships. For additional background on the program, please see the About, Services, and Portfolio sections of the N4W website.
The position is full-time, fully remote, and can be based in any country where TNC is registered as a Non-government Organization and established employer in Africa (Angola, Gabon, Kenya, South Africa, Tanzania, Zambia), Latin America (Argentina, Belize, Brazil, Chile, Colombia, Guatemala, Mexico, Peru), and the Caribbean (The Bahamas, Dominican Republic, Grenada, Jamaica, Puerto Rico, USVI).
We're Looking for You:
The Freshwater Science Associate ('Associate') provides critical science inputs as part of broader N4W engagement teams that work with local organizations and agencies to build watershed investment programs that deliver water security and healthy ecosystem outcomes. The Associate's work involves executing primary freshwater analyses, project coordination, information gathering and analysis from local, national, and global datasets, obtaining inputs from partner subject matter experts, incorporating feedback from local stakeholders, and ensuring the quality of finalized scientific outputs. This position provides technical execution support for projects promoting Nature-based Solutions for water security, including hydrology, geographic information systems, prioritization & optimization algorithms, land use / land cover evaluation, and monitoring & evaluation program establishment. The position requires occasional domestic and/or international travel, including to remote field locations (anticipated travel burden of 20%).
Roles and Responsibilities
Prioritize watershed nature-based solution (NbS) implementation options to deliver targeted water security objectives.
Application of commonly used spatial analytical tools and hydrological models.
Projecting land use/land cover scenarios
Developing implementation management dashboards via relational database visualization tools
Assisting engagement Science Leads with the coordination of science workstreams
Collaborating with partners from diverse backgrounds and geographies to incorporate their perspectives and develop interdisciplinary scientific products.
What You'll Bring:
MINIMUM QUALIFICATIONS
Master's Degree in water resources, ecology, hydrology, civil or environmental engineering, environmental science, geography, or a related field and one year of professional experience or equivalent combination
Experience in geo-spatial analysis, hydrological modeling, and remote sensing /earth observation
Experience synthesizing, interpreting, and communicating scientific information.
Experienced in project management planning and techniques, including elaborating clear work plans and managing deadlines.
Experience writing and speaking in the English language.
DESIRED QUALIFICATIONS
3+ years of professional experience, preferably within water sector consultancies and/or water resource management.
Ecology expertise across a diversity of ecosystem environments.
Geo-spatial and remote sensing analysis expertise (Desktop and cloud-based), including ArcGIS, QGIS, and Google Earth Engine.
Hydrological modeling expertise, such as: SWAT, WEAP, HEC-HMS, InVEST, MODFLOW.
Programming/statistical/data science expertise, such as: Python, R, MATLAB.
Visualization expertise, including Tableau, ArcGIS Online, Power BI.
Professional experience in NbS project design and implementation.
Record of peer-reviewed publications and grey literature (non-peer reviewed) specific to the field of water resource management and NbS.
Communication skills in articulating complex scientific concepts/outputs to non-technical audiences.
Stakeholder engagement, facilitation, and human-centered design skills.
Experience working in data-poor environments.
Experience providing capacity building /training to staff/officials from different backgrounds and professional levels on basic to advanced hydrological modeling, GIS, and remote sensing.
Experience in geospatial and remote sensing field data collection and processing.
Ability to work efficiently and effectively on multiple concurrent projects.
Multi-language skills (in particular, Spanish, French, Portuguese, Swahili) .
What We Bring:
Since 1951, The Nature Conservancy has been doing work you can believe in protecting the lands and waters that all life depends on. Through grassroots action, TNC has grown to become one of the most effective and wide-reaching environmental organizations in the world. Thanks to more than 1 million members, over 400 scientists, and the dedicated efforts of our diverse staff, we impact conservation throughout the world!
The Nature Conservancy offers a competitive, comprehensive benefits package including health care benefits, pension/ Gratuity stipend including employer match, parental leave, accrued paid time off, life insurance, disability coverage, employee assistance program, other life and work wellbeing benefits. Learn more about our benefits at in the Culture Tab on nature.org/careers.
We're proud to offer a work-environment that is supportive of the health, wellbeing, and flexibility needs of the people we employ!
This description is not designed to be a complete list of all duties and responsibilities required for this job.
Our Competencies:
The Nature Conservancy is an Equal Opportunity Employer. Our commitment to diversity includes the recognition that our conservation mission is best advanced by the leadership and contributions of people of diverse backgrounds, beliefs, and cultures. Recruiting and mentoring staff to create an inclusive organization that reflects our global character is a priority and we encourage applicants from all cultures, races, colors, religions, sexes, national or regional origins, ages, disability status, sexual orientations, gender identities, military, protected veteran status or other status protected by law.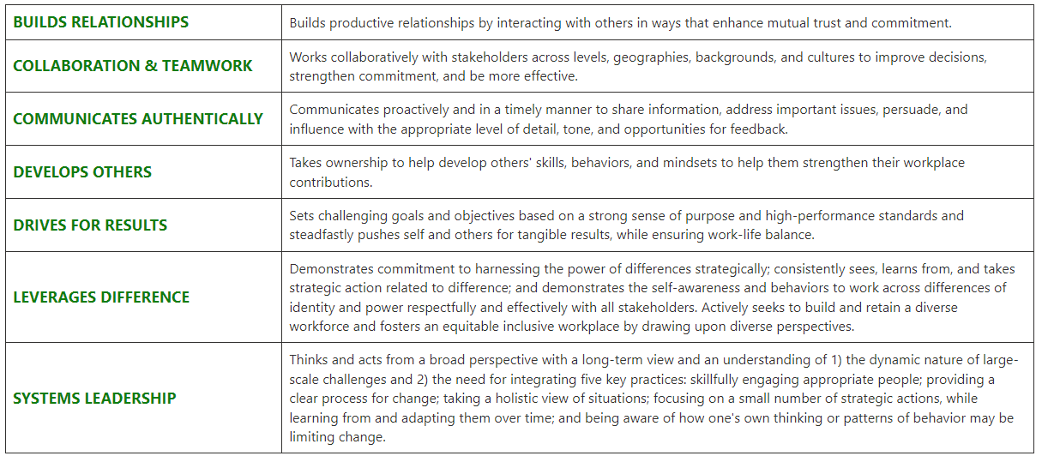 TNC is committed to offering accommodations for qualified individuals with disabilities and disabled veterans in our job application process. If you need assistance or an accommodation due to a disability, please send a note to [email protected] with Request for Accommodation in the subject line